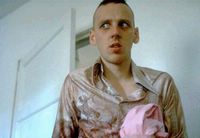 Spud, ah love ye...

Lendo Trainspotting no original, finalmente. E não é tão assustador assim. É só uma questão de desprendimento. Ok. Provavelmente meus banhos de imersão escocesa ajudaram um pouco, mas o fato é que eu estou para acabar a obra e preciso registrar aqui meu amor por
Spud
.
Spud conseguiu roubar meu coração de Renton. Não no filme, óbvio, porque ninguém arranca meus olhos do corpo do Ewan McGregor. Mas no livro o Renton é muito escroto, diz-que tem pau pequeno (unlike our mate on the silver screen, haha) e ainda sujo. Então não deu, Renton.
Eu fico com o Spud porque ele tem as falas mais insanas. Ele só pensa em
Catholic girls
e
Jewish princesses
, e também no Zappa e na Moon Unit. Ele trata todo mundo por
catboy
. E ele é um coitado fodido do cu, que acaba amarrado com vick vaporub no pinto, além de espalhar bosta nos outros em outra ocasião. Ele nunca consegue trepar, não consegue mentir e não é cruel com animais. Haha.
Cito aqui duas passagens que fizeram com que eu acrescentasse Danny Murphy - aka Spud - à minha galeria de personagens prediletos.
aqui em momento *romance*
(...)Spud wanted to never get to that party wishing that they could just go on walking and talking. They went down into the underpass and Spud thought that he should put his arms around Nicola. Then a passage from a Smiths' song, one he'd always liked called 'There is a Light That Never Goes Out', came into his head:

and in the darkened underpass
I thought oh God my chance has come at last
but then a strange fear gripped me
and I just couldn't ask

Morrissey's sad voice summed up his feelings. He didn't put his arms around Nicola and his attempts to chat her up were half-arsed after that. (...)
e aqui, em momento *amigo-dos-animais*:
Spud looks around: - It's eh, likesay... Rents is daein the right thing, but it's kinday the wrong reasons. We'll nivir likesay, learn tae love oorsels, until we kin look eftir weaker things, likesay animals n that... but it's good thit Rents is vegetarian... likesay, if ye kin keep it up... likesay...